Stock information
Neola Medical AB (publ) listed the company's share on Nasdaq First North Growth Market in Stockholm on October 2, 2020. Neola Medical AB (publ) is a record company and its shares are registered in electronic form with Euroclear Sweden AB, where its share register is also kept. All shares are of the same type, have an equal right to a share in the Company's assets and profits and have the same voting value. All shares are issued and fully paid up.
The company's share is traded under the short name NEOLA.
The company's ISIN code for the share is: SE0014829255
ISIN code for warrants TO1 is: SE0014731006
The share price and trading in the share can be followed on Nasdaq First North Growth Market Stockholm.
For questions regarding the distribution of acquisition values for Gasporox and Neola Medical, please see Gasporox's website: https://www.gasporox.se/pressreleases/aktieinformation/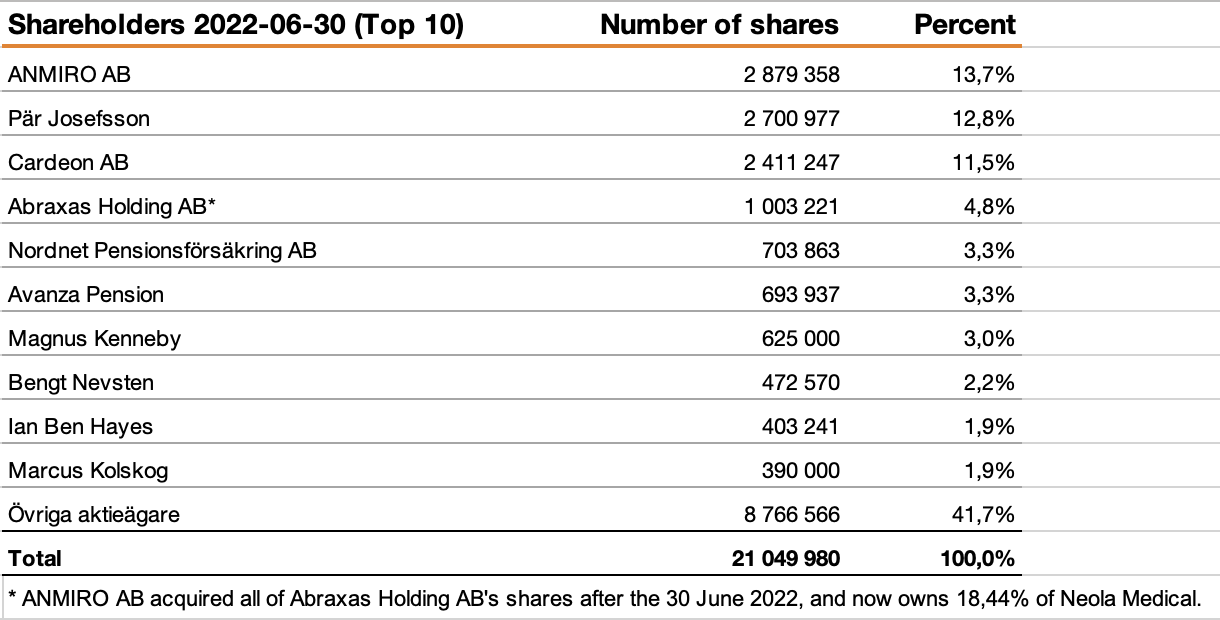 The shareholder list above lists Neola Medical's ten largest shareholders as of June 30, 2022 (source: Euroclear).

Incentive programs
There are currently two (2) incentive programs in Neola Medical that were decided at the Annual General Meeting on May 20, 2021. Warrants 2021/2025A (for senior executives, other employees and consultants in the Company) and 2021/2025B (Board members) may during the exercise period, which runs from and including 2 June 2025 to and including 30 June 2025, is used for subscription of newly issued shares in the Company.
Incitamentsprogram – beslut och villkor